#python
University Challenge Question Database
Published Oct 28, 2017 by Alik Ulmasov
I'm a big fan of the BBC show University Challenge. Unfortunately, it doesn't seem to have much of an online fanbase. For example, the subreddit is completely inactive (but I did find a Tumblr called Cuties of University Challenge). Sean Blanchflower even keeps track of overall season statistics, but that's about as involved as anyone seems to be.
So, I've started a University Challenge Questions Database.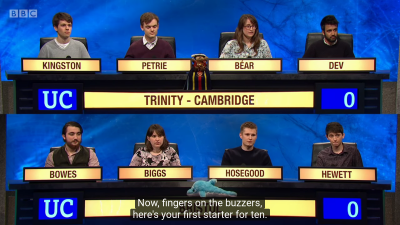 I've been parsing subtitles from the show using Python and PHP (code here), and now I've gotten it to sort questions and answers.
In the future, I hope to add team statistics, and sort questions by subject.
*****

© 2021 Alik Ulmasov